How to install WP-CLI on ubuntu 16.04
WP-CLI – Command line interface Tool for WordPress Manage your WordPress Website From Command Lines.
I am really Addicted to this Tool Because it saves My time by installing, Updating My plugins and themes without opening browsers.
it is a Great tool for WP developers and Bloggers Who are all having bulk wp sites Manage everything from SSH.
Install New WP Site
Core Updates
Install and Activate the New plugins and themes
Update the plugins and themes into Latest Version
And More
Here is the Complete List of WP-CLI Commands – Bookmark Now
How to install WP-CLI on ubuntu?
Before Installing WP-CLI Update your Packages by using this Below Command
sudo apt-get update

Now install wp-CLI Setup package via CurL Method
curl -O https://raw.githubusercontent.com/wp-cli/builds/gh-pages/phar/wp-cli.phar

Set Permission for WP-CLI
chmod +x wp-cli.phar

Rename the wp-cli.phar into wp and move it into bin Folder
sudo mv wp-cli.phar /usr/local/bin/wp

Now Verify the Install (Check the Version)
wp cli version


Get the WP-CLI info it will Display PHP version other details about WP-CLI
wp cli info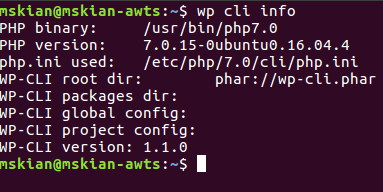 wp cli check-update


Update WP-CLI into New Version
sudo wp cli update

That's all successfully we install WP-CLI on ubuntu 16.04 Desktop
Hope this Guide will Help you to Install WP-CLI tool on Ubuntu if you have any doubts in Installation Just drop your comments Here I will Guide you.
WordPress Guide